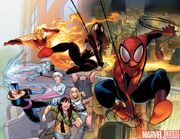 Ultimate Comics: Spider-Man is a comic book published by Marvel Comics that debuted in August of 2009 as part of the relaunch of the Ultimate Universe under the new "Ultimate Comics" imprint. It serves as continuation of Ultimate Spider-Man, as well as an all-new series. It is written by Ultimate Spider-Man creator Brian Michael Bendis and drawn by new artist David Lafuente, who had collaborated with Bendis on the third Ultimate Spider-Man Annual.
The new world according to Peter Parker
Starting six months after Ultimatum, Peter Parker now works at Burger Frog. Gwen Stacy is living with the Parkers again and seems to be dating Peter. Why they got together or what happened to Peter and MJ's relationship has yet to be seen. Johnny Storm shows up a Peter's house tired and passes out at Peter's front door. Mysterio appears again, blasting Kingpin out the window of his skyscraper.